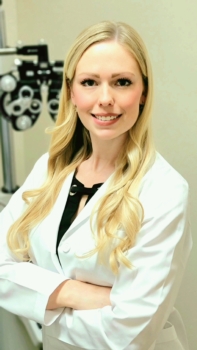 Originally from Springfield, Illinois, Dr. Daniels is excited to be back in Colorado as part of the Innovative Eyecare team. She moved to Colorado Springs for US Figure Skating training where she made it on Team USA, during which time she attended Cheyenne Mountain High School and found her love for Colorado.
She earned her Bachelor of Science degree in human biology, minor in Spanish, and doctor of optometry degree all from Indiana University in Bloomington, Indiana. In optometry school, she served as president of the contact lens club and was an associate instructor for ocular biology. Her clinical rotations included: 1. Hershel "Woody" Williams veterans affairs hospital in Huntington, WV which focused on diabetes, cataracts, macular degeneration, and other diseases, 2. Camp Lejeune Marine Corps base in Jacksonville, NC with a focus on primary care, red eye, and traumatic brain injuries, 3. Cornea and Contact Lens Institute of Minnesota in Edina, MN seeing many keratoconus patients and specialty contact lens fits, and 4. Atwater Eyecare Center in Bloomington, IN encompassing all aspects of optometry.
Dr. Daniels is dedicated to go the extra mile to ensure each patient achieves optimal eye health and vision while making patients feel at ease and taking the time to answer any questions they may have regarding eye related issues.
When not in the office, she enjoys outdoor activities including hiking, mountain biking and skiing. She also enjoys cooking, baking, and spending time with family and friends.